The "Nordic School" of recorder playing
takes 1st and 2nd places at the SRP/MOECK competition in november 2009
by David Bellugi

On November 12-15, I attended the 2009 Greenwich International Early Music Festival and Exhibition at the magnificent Old Royal Naval College near London (U.K.). [see http://tinyurl.com/gemf2009]

I first went to this exhibition in 2007 because, together with Pamela Thorby and Ross Winters, I was invited to be on the jury of the 2007 Moeck/SRP Recorder Competition and I ended up having so much fun that I couldn't resist going back again last year to hear 2007 winner Chris Orton perform and yet again this year to hear the 2009 competition. Needless to say, I also had a fabulous time playing every instrument I could get my hands on, buying lots of music, meeting up with old friends and making new ones.

The level in 2007 was very high and this year appeared to be even higher. It gives me a great sense of hope for the future to see such talented young performers on the Recorder and it is also incredibly heart-warming to see a long line of people waiting to get into a recital hall to hear three hours of recorder playing.

This year the third prize went to Leonard Kwon who had just won the 1st prize (ex aequo with Vincent Lauzer,) at the 2009 Montreal Recorder Competition. Leonard Kwon, who is studying with Reine-Marie Verhagen at the Royal Conservatory in The Hague, was tastefully accompanied by Italian harpsichordist, Edoardo Valorz. Mr. Kwon performed two of his own compositions (one of which included the use of electronics) as well as music by Berio, Finger, van Eyck, (Isang) Yun and the required piece for this year's competition, Telemann's Fantasy n. 2. If I had to single out one piece of his performance for its particularly beautiful interpretation it would probably be the Ground by Godfrey Finger that he and Mr. Valorz performed with grace and elegance.

Second prize went to Per Gross, a student of Dan Laurin at the Royal College of Music in Sweden. Mr. Gross was superbly accompanied by harpsichordist Mayumi Kamata and an extraordinary percussionist, Lief Karlsson. Mr. Gross's programme included music by Andriessen, Bach, Hotteterre, (Steffan Mossen) Mark, Shinohara, and Zahnhausen. Of his interpretations I was particularly impressed with his Mediaeval Estampie ("In Pro") as well as the Bach BWV 1034 with the balanced and flawless accompaniment of harpsichordist Mayumi Kamata.

First prize went to Pernille Petersen, a student of Nikolaj Rominus at the Carl Nielsen Academy of Music in Denmark, who also studied with Dan Laurin in Stockholm. Petersen's charming musical personality shined throughout her varied program that was accompanied by equally charming and attentive harpsichordist Gunnhild Tender and included music by Berio, Castrucci, Christensen, Hosokawa and Uccellini. Of her interpretations I'd say that her virtuoso rendition of the C major Sonata by Pietro Castrucci remains foremost in my memory as does her glorious sound in her opening Estampie "Principio di Virtù".

The members of the jury this year were: Maurice Steger (Switzerland), Julien Feltrin (France) and (harpsichordist) Jane Chapman (UK). They took quite a long time to decide the prizes and Maurice Steger, as spokesman of the jury, told the audience that it was a very difficult choice and complimented all three performers who all received enthusiastic applause from the audience.

Previous winners of the Moeck/SRP Competition are: 1985 Piers Adams & Helen Rees (joint), 1987 Rebecca Miles, 1989 Robert Erhlich, 1991 Ashley Solomon, 1995 Naomi Graham, 1997 Dorothee Oberlinger, 1999 Pia Loman, 2001 Daniel Koschitzki, 2003 Alexandra Opsahl, 2005 Maria Martinez Ayerza, 2007 Chris Orton

You can see a video of the award speeches of this year's competition here:

http://www.youtube.com/watch?v=o6xLqufLVqU

Upon my return home I contacted the three finalists and asked if they wanted to do a short interview for Windkanal. Pernille Petersen and Leonard Kwon answered immediately. Unfortunately, I was not able to maintain a correspondence with Per Gross, so I will add a few words about him from his website. The interviews were conducted first by a very pleasant Skype conversations and then with several email follow-ups.

Interview with Pernille Petersen
Where and when were you born?
I was born 1983 in Roskilde, Denmark just outside of Copenhagen and grew up partially in the Copenhagen area and partially in Gävle, Sweden.
When did you start playing the recorder?
I started playing the recorder at the age of 7 like any other normal Danish kid in my local Music School. Quite early I was picked out and got to play with the older kids. My parents don't haveany musical training so my life as a musician is very much thanks to the public music schools.
What other instruments to do play?
Piano and Harpsichord have been an important part of my musical training. I play baroque oboe as a hobby, just for fun.
What degrees do you have in music?
I have a Diploma from the Carl Nielsen Academy of Music Odense. That resembles Candidatus or Master degree. Now I'm studying in the Soloist Class at the same academy, a third cycle degree. I will finish my studies in Autumn 2010.
Who were your teachers on the recorder and for how many years did you study with them?
My first teacher in the public Music School of Roskilde was Eveline Stryhn who ignited my interest in music. Since then my main teacher has been Nikolaj Ronimus over three periods 1998-2000, 2003-2005, 2007-present.
I have also studied with Dan Selchau, 2000-2003, Lene Langballe 2005-2006 and Dan Laurin 2006-2007.
What or who would you say is your major influence in music?
I would say that my teachers Nikolaj Ronimus and Dan Laurin who has formed the new Nordic school has influenced and inspired me the most.
You presented an eclectic program of music at the competition. How did you arrive at the pieces you chose?
I play because I love it – because I have fun doing it. And every concert should be fun and playful. A competition like this one can feel quite pressured and it is easy in the preparations to forget that you do what you love the most. I didn't want to loose that feeling. So I chose pieces that I love, that made me feel free and that showed more musicality than technique. But of course there was technique as well, they were not easy pieces. The program showed many facets of recorder playing, I wanted to show different recorder types and many different styles of playing.
In Danish we have two different words for play, you say "lege" when it is kids playing and fooling around and "spille" when you play a musical instrument. But it should really just be one word like in French and English, because it is quite the same really, isn't it?
The name of the program "Playful Gestures" should show that I feel "playing" when I play and that I really want the music to mean something, to say something.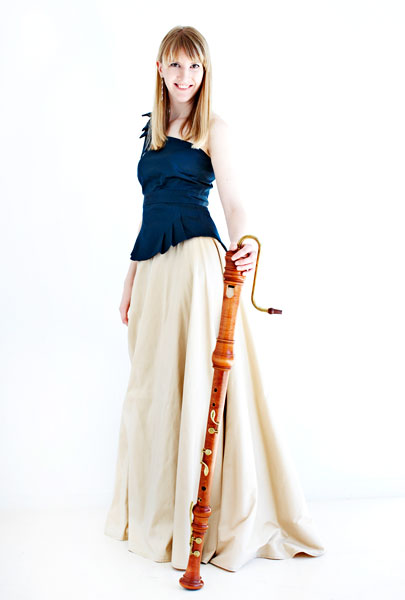 How about the order of the pieces on the program, what dictated that? I'm curious to know, for example, why you chose to begin with a Medieval Estampie and then follow it by not one but two contemporary works: (Berio and Hosokawa).
The pieces form a line of intensity. The Estampie presents me [as a musician], the Berio shows you more about me and the Hosokawa goes to the core of who I am. Also my focus needs to go deeper and deeper through the pieces. After the Hosokawa I went off stage and came in again with [Harpsichordist] Gunnhild for the Uccellini that, after the intense modern pieces, seems like a lovely little tune of love.
What makers and models of instruments did you use in your programme in London?
For "Principio di Virtu" I used a Morgan/Ronimus Ganassi g-alto at 415 (has three middle pieces) in maple.
For Berio's "Gesti" I used a Von Huene Rippert Alto at 440 in grenadilla.
For Hosokawa's "Vertical Song" I used a Yamaha plastic tenor.
For the Sonata by Uccellini I used a Morgan/Ronimus Ganassi soprano at 415 (has three middle pieces) in maple.
For [Morgens] Christensen's "Birds of a Spring Night" I used a Ronimus soprano in 440 in antique palisander. (New model – this was a "world premiere" [for this model of instrument]).
For Telemann and Castrucci I used a Morgan/Ronimus Bressan alto at 415 in boxwood.
What's the next recorder(s) that you'd like to buy?
I have just ordered a Bressan G-Alto and a Denner Alto from the Morgan Workshop in Australia. Ann Morgan found a G-Alto headpiece made by Fred Morgan himself, and it just needs a body. This is the closest I get to an original Morgan. It will be voiced by Nikolaj Ronimus.
At the exhibition I tried out a Mollenhauer Helder tenor – it would have been so much easier to play Hosokawa on that one. I was very tempted to buy it, only the prize tag held me from it. I also want one of those cute Traumflöte in electric blue!
What concerts do you have coming up in the future?
Besides having concerts with my early music groups 'Københavns Barokkompagnie' (http://www.barokkompagnie.dk/) and 'Lady Baroque' (http://www.pernillepetersen.dk/?page_id=29) and with my duo partner Bjarke Mogensen. I'm now starting to think of this year's big debut concerts in September. The end of my studies will be 2 concerts in Denmark to present myself as a young musician to the general public. The program will have two world premieres.
What recordings have you done and what recordings are you planning on doing?
This spring a very exciting project is coming up. I'll record the lovely Castrucci sonatas that I have fallen in love with. The center piece of the CD will be the Walsh edition of six sonatas by Castrucci and Geminiani. It will be my first CD and I'm very exited! I hope that the CD will be ready for the recital at next year's Early Music Exhibition in Greenwich. So I look forward to seeing you there!

www.pernillepetersen.dk
Interview with Leonard Kwon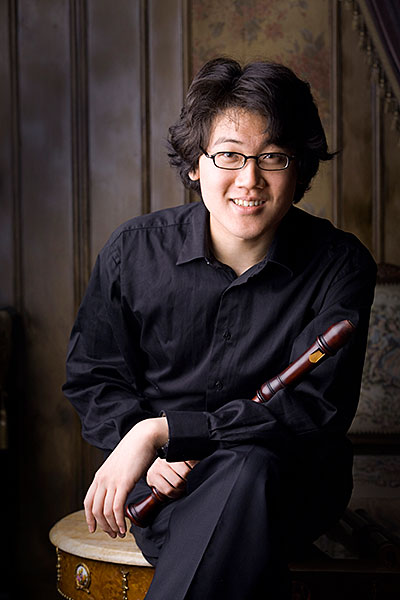 Where and when were you born?
I was born in Virginia Charlottesville, 1985. My parents were there during their PhD Program (father-physics, mother-nursing) and the family moved back to South Korea when I was 7.
What were your earliest musical experiences?
My mother was an amateur pianist and started to learn piano from around 7.
When did you start playing the recorder?
Like most Korean schoolchildren, I started to play the recorder when I was 10. I loved the sound, and my mother bought me the "Art of Recorder" CD by Frans Brüggen from Teldec. It was a magical encounter for me with the world of the recorder, and from that moment I couldn't stop playing the recorder.
What other instruments to do play?
I also play piano and harpsichord rather well. When we have a family gathering, I usually play the keyboard, and my brother plays the recorder. He is a music lover and we sound quite good.
What degrees do you have in music?
I studied Musicology in the Seoul National University and am now studying at the Royal Hague conservatory.
Who were your teachers on the recorder and for how many years did you study with them?
In I studied with Jin-Hee Cho, and Sujin Kim privately for 3 years in Korea. I have now been studying for 3 and a half years with Reine-Marie Verhagen at the [Royal Hague] conservatory.
What or who would you say is your major influence in music?
As a composer, I would say Bach, Beethoven, Schoenberg, Isang Yun have had the best influence on me. As a performer, Herreweghe, Frans Brüggen, Savall, Koopman, Suzuki have given me the most inspiration and had the biggest influence on my formation as a musician.
You presented an eclectic programme of music at the competition. How did you arrive at the pieces you chose?
My idea was to make my own response to the historical recorder repertoire. I chose two Van Eyck pieces and inserted my improvisation on the English modern song. It is something Van Eyck, of course, also frequently did himself. To take the popular song and improvise on it. Next I took two beautiful English grounds and inserted my own composition using the elements of the idea of the ground bass.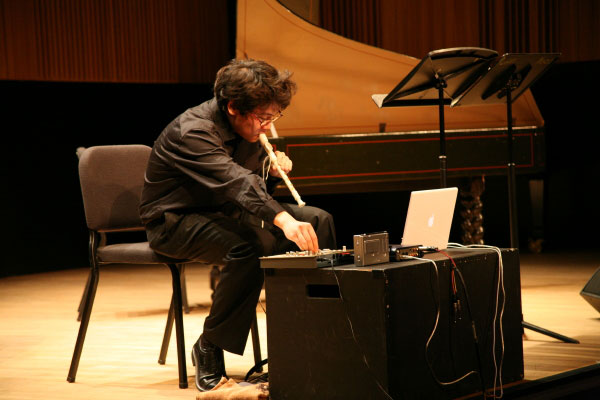 In the 17th and18th century keyboard players improvised in their most modern way, and in the classical era Beethoven and Mozart improvised on their own way (and of course some times they fixed the structure and write everything down on the paper). I think now in our modern time this tradition is going on by jazz pianists, and modern improvisers. My idea was to realize this kind of stream in the recorder perspective.
Tell me about the electronics that you used in the concert in Greenwich.
I used a Korg Rhythm Machine, for the concert. I could have used the computer with the programmed Max Msp, but when I do the solo, I prefer to do with more simple instruments. This Korg can record 100 samples and make a layer over and over. Because of this it fits perfectly with the concept of music on a ground. To amplify this I used Jean-Luc Boudreau's pick up mike. It gives you much more flexibility then other microphones so I really admire Jean-Luc's idea of the pick up.
What makers and models of instruments did you use in your programme in London?
For van Eyck I used a Blezinger transitional soprano recorder. And for my improvisation I used a Blezinger Steenbergen model alto in 440. For the Ground in d minor, I used the Fumitaka Saito Stanesby Jr. 415 model. (original is from the private collection from Basel). For the Ground in C major, I used a Boudreau Ganassi G Alto at 466.
And
for Telemann Fantasia Saito Denner Alto 415,
for Hermit "am Wasser", Berio it was the same Blezinger 440.
for "Affenspieler" it was Moeck Kynseker 440 (developed by von Huene)
What's the next recorder(s) that you'd like to buy?
I am waiting for the Voice flute by Adrian Brown, and a Bressan model alto (original preserved in Ueda Museum in Tokyo) by Yamaoka Shigeru.
What concerts do you have coming up in the future?
We are preparing a recording of Venetian and Neapolitan Recorder music with string ensemble. And before the recording in March there would be a series of concerts in the Hague, Delft and Amsterdam in January and February.
What recordings have you done and what recordings are you planning on doing?
I have recorded English consort music with the 'Ensemble Mattheson' and in March there would be a recording of Mancini, Scarlatti, and Vivaldi's recorder chamber music.
Tell as much as you can about the Montreal competition. Please also tell me what programme(s) you presented and how it was organized.
Montreal Competition was a great experience for me. First the city itself was so calm and beautiful. Two different culture were together in a very good way I think. I had a great time walking around the parks and small vintage streets.
They picked nine contestants for the semi final from the preliminary Tape round.
Every semifinal contestant had to perform the compulsory piece by P. Matthiue.
For the Final Round they picked four performers and we each had to present thirty minutes of Recorder music.
For the semi-final round I performed:
Van Eyck, Daphne
Improvisation on Paranoid Android (Radiohead Cover)
Anon, Ground in C major
My composition, A Ground
Compulsory Piece
and for the final round I performed
G. Finger, A ground
Berio, Gesti
Van Eyck, "What shall we do at night"
Improvisation using the electronic recorder (and programmed software) which was developed by my friend Byungjun Kwon (it is a recorder with sensor attached on the finger holes. I will attach a photo for this)
Isang Yun, "The Chinese picture"
The organization was very helpful, and all the electronic devices were set perfectly for the performance so I really could concentrated on the other solo things while doing the improvisation.
Also for those who were flying oversea, they helped to find a lodging place. And this was really sweet of them.
They also had a competition accompanist, a member of the Ensemble Caprice (Erin Helyard), and it was very helpful to play with him. (Erin also gave a duo concert with Maurice during the festival)
Per Gross
This information was taken from Per Gross's website:
Per Gross made his debut as a concert soloist in The Royal Concert Hall in Stockholm with SUSO (Stockholm Youth Symphony Orchestra) 1996. After obtaining a Bachelor and Masters degree from The Carl Nielsen Academy of Music, Denmark, (in the class of Dan Laurin) Per is now a post graduate student (Soloist Diploma) at The Royal College of Music in Stockholm.
As an extensively active freelance musician Per has appeared as soloist and member of The Britten-Pears Young Artist Programme (England), L´Academie Baroque Europeénne d´Ambronay (France), 'The Drottningholm Baroque Ensemble' (Sweden) and 'Tiranas Young Virtuosos' (Albania).
Per also takes great interest in the more untraditional ways of performing, and he has collaborated with the Swedish theatre company 'Orionteatern'.
Latest news:
After two days of semi finals Per Gross was selected as one of three finalists to appear as soloist with Gothenburg Symphony Orchestra, May 12. Per performed a program showing maximum range in repertiore, expression, artistry and stage presence – all well recieved by audience and adjudicators.
This spring and summer [2010] will include performances in Gothenburg Concert Hall (with Gothenburg Symphony Orchestra, GSO), Uppsala (Uppsala Castle/The museum of art), Varberg Theatre (Varberg concert society) as well as concerts in several churches including the Drottningholm palace church. Concert venues abroad features Sicily, Italy. Per has also been invited to perform as a guest artist in Kulturskolan Stockholm/Västerorts spring concert. Per, trained (age 10-15) in this music school with Sylvia Lind and Claudia Müller as primary teachers, is proud to come back and join forces with talents of the new generation.
David Bellugi
Videos of David Bellugi:
www.youtube.com/davidbellugi
videos of David Bellugi's students:
www.youtube.com/davidbellugi2
website:
www.davidbellugi.com